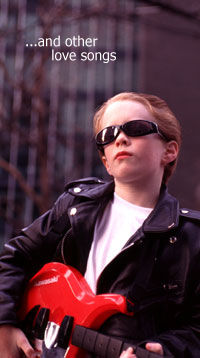 It's actually "and other assorted love songs", but I'd already done the graphic.

A favorite song. Today's or yesterday's?

When I was 8 my mother took me to the Seattle Aqua Theater, an amphitheater built at the edge of Lake Washington, to hear my uncle sing the title roll in Sigmund Romberg's The Student Prince. I don't remember listening to music at the age of 8 other than singing along with what I heard on the radio (this was in the early 50's) and to sample some of my parent's old '78's: Benny Goodman, Glen Miller, Tommy Dorsey, Art Tatum.

The Student Prince was pretty cool, particularly since my uncle was singing the lead, and I've retained a liking for operetta since. So what do I say was my favorite song at the age of 10 or 12? I remember my uncle singing Deep in My Heart Dear (I have a dream of you....) and that will do. (I also thought Tumbling Tumbleweeds by the Sons of the Pioneers was pretty hot, but I was 8 and it was 1951.)

At 12 Bill Haley and the Comets released Rock Around the Clock and all hell broke loose. The next year Elvis released Heartbreak Hotel, Fats Domino released Blueberry Hill and Carl Perkins released Blue Suede Shoes. Bill Haley and the Comets, Elvis, The Dell Vikings, The Coasters, Nervous Norvis, Chuck Berry, Fats Domino, Little Richard, The Everly Brothers, Buddy Holly, The Platters. Young Blood, Come Go With Me, Jailhouse Rock, Heartbreak Hotel, Blueberry Hill, Transfusion, Japanese Sandman, Earth Angel, Johnny B. Good, fuck, Get A Job and In The Still of the Night. The greatest full bore rock and roll song of the period was probably Jailhouse Rock, but Blueberry Hill, Smoke Gets In Your Eyes, Searchin', Great Balls of Fire, you name it, the times were movin and we were in the middle. More drums, more bass, more Bo Diddley.

I began college in 1961. The early operetta experience still stuck and I cut class to see Nelson Eddy and Jeanette MacDonald in a film festival held in the Seattle University district during my freshman year, the average age of the audience in the high 60's and 18 year old moi, the only weeniebopper in the lot. I own videotapes of these films. I don't play them very often, maybe once a year and only then in the dead of night when no one is watching, but they bring back those times and that place.

I watched a schmaltzy movie about George Gershwin. I enjoyed the music and the myth, I enjoyed Oscar Levant and Tin Pan Alley and all the other hokey crap, song writers in little rooms hammering on pianos. Still do. That movie introduced me to Porgy and Bess. Given the revolution in race relations since it was written, Porgy and Bess has always been an orphan that nobody knows what to do with, which wouldn't be a problem if it weren't for the music. The thing about it is the music. It's great. Porgy and Bess led me to other opera, first Puccini and Verdi and then others like Bizet and Leoncalvo and Offenbach and Giordano. For my first years of college I would choose O Soave Fanciulla and Oh Mimi tu piu non torni from La Boheme, one song saying hello, the other goodbye. Simpler times, simpler interests.

The Beatles made Rubber Soul in 1966 and rocked me back on my boots. Marijuana and some other stuff abetted. The Beatles, The Stones, Bob Dylan, Eric Clapton (The Yardbirds, Maytall, Cream, Blind Faith, Derek and the Dominos), Buffalo Springfield, Santana, the Doors, Pink Floyd, The Who, CSNY, even god awful stuff like the Moody Blues. There was that summer with Susan and Cat Stevens in Sausalito and those summers with Philippa and Roxie Music at the Rip Off Ranch.

If I had to pick one song it would be Layla. Layla, Layla, listening late at night, Eric Clapton and Duane Allman on guitars, Nicki Hopkins pounding piano, walking and talking over and around the bass and drums. Bell Bottom Blues comes a close second. Maybe you had to be there when it was happening. I still have tapes I made on the good nights playing my own record collection, playing one song after another as the mood struck. There were the arguments between the Beatles fans and the Stones fans, more socioeconomic bullshit than anything else. Both were great. I essentially immersed myself in rock and roll from 1967 through 1977, from Buffalo Springfield to the Pretenders, from Neil Young to Johnny Rotten. I prefer Young. I can listen to the guitars in Southern Man any time you like, up loud, all night. There was so much good stuff by so many: Sly and the Family Stone, Santana, Jefferson Airplane (One side makes you taller, the other makes you small and the ones that mother gives you don't do anything at all, go ask Alice, when she's ten feet tall....

And there's no mention of the Grateful Dead. Or Johnny Winter or Genya Ravan or Roxie Music or David Bowie or Janis Joplin or Little Feat. Or Tim Buckley or Patti Smith or Tom Verlaine or Stevie Wonder. The Clash. Still, for all of it, whenever I hear the first chords of Layla on the radio I drop everthing else and click in, so let's say Layla. Clapton is old, tired, been around forever, boring, ancient and god. It's the god part. He and Allman did good work in Florida. That's enough.

What do I listen to today? Not much. I buy the occasional CD. I read the online journals and buy some of the music that's recommended. I don't sit listening to music that twists my head off any more. I still listen to English white boy blues and not enough to the real thing, although I do listen. I've felt I've been damned lucky in this life to have been moved by music. So, instead of the one song, I'll list eight, eight for this minute. If I listed them again they'd be different (except for Layla as I am her forever faithful lover til I'm dead and even then you could probably get a little eye flicker and a smile).
Deep In My Heart Dear, Sigmund Romberg
O Soave Fanciulla, Giacomo Puccini
Layla, Eric Clapton
Bell Bottom Blues, Eric Clapton
Surrender, Tim Buckley
Rock and Roll Woman, Buffalo Springfield
Suite For Judy Blue Eyes, CSNY
Senor, Bob Dylan
Loan Me a Dime, Boz Scaggs
I know for many this list will be meaningless. I only hope you have your own list of songs that make you dance, make you cry, make you crazy, make you happy, make you sad, make you love, make you march, make you shiver on the mountain as the sun rises over the horizon. It's a damned lucky life that is allowed music. That's what's on the list. My list, your list.
---